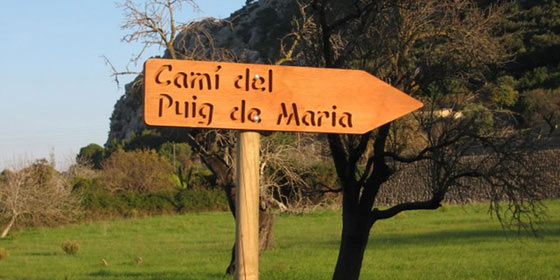 Due to its exceptional geographical location and pleasant climate, the north of Mallorca, and particularly Pollensa, form a natural and privileged environment for walkers, cyclists and lovers of nature in general.
The Tramuntana mountain range, declared a Heritage Site by UNESCO, is a great inspration for poets, musicians and artists. Its attractive pathways are perfect for hiking, travelling by country lanes or cliff-side walkways, or walking along dry stone paths, through holm oak woods or alongside rivers. Or, indeed, for any peaceful cycle ride or stroll.
Bird-watchers and lovers of plant-life can also enjoy the enormous richness and variety of species here.
Best-known excursions that can be done on foot are that to the Puig de Maria (around 45minutes, medium difficulty), the Castell del Rei (in Ternelles area, takes over 2 hours, little difficulty), Cala Boquer (this starts in Puerto Pollensa and finishes after 45 minutes in a beautiful and little frequented cove), and the Atalaya d'Albercuix (reached via a tarmac road on the road to Formentor).
Other places worth knowing in the Pollensa area and ideal for excursions are, El Fumat and cala Murta, Cala Figuera, Coves Blanques (Cala Sant Vicenç), the road to Lluc, and els Molins de Llinars.