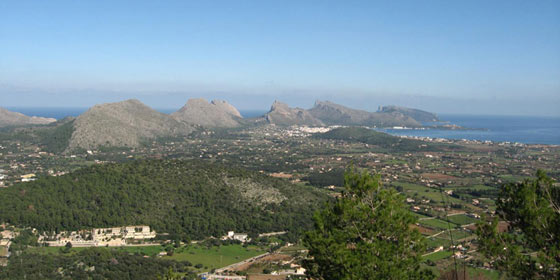 With an area of about 150 square kilometres, the municipality of Pollensa is situated in the north of Mallorca (Balearic Islands), in the region of the Tramuntana mountain range which was declared a Natural Heritage Site by UNESCO in June 2011.
Its unbeatable location, with attractive mountain paths (ideal for hiking or any type of excursion), beaches and coves, and wide choice of cultural attractions to enjoy, have made this area one of the most visited in Mallorca.
Pollensa had a population of more than 16,000 inhabitants and is made up of three centres; Puerto Pollensa, Cala Sant Vicenç and the town of Pollensa itself. In Pollensa you can find numerous places worth a visit: Calvario with its 365 steps, one for each day of the year, and a chapel from the early 19th century at the top; the Santo Domingo Cloisters, a 16th century building that today is home to the town museum and where each year the concerts in the Pollensa Music Festival are held; the Roman bridge and the Puig de Maria among other interesting sights.
Pollensa is frequently visited by all kinds of artists; poets, musiciand and painters have made this area their preferred place and their source of inspiration. Its streets and squares daily reflect the wide variety of visitors who, especially during the months of spring and summer, decide to get to know this area better, its customs, its people, and, of course, its much-envied Mediterranean climate.