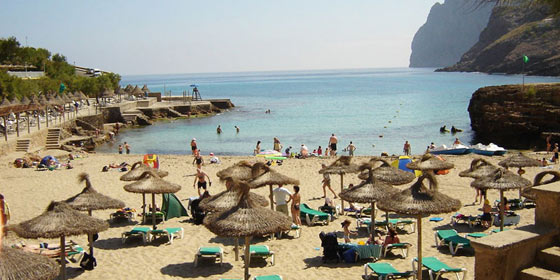 The municipality of Pollensa, because of its location on the island of Mallorca, benefits from a large number of beaches and sandy coves with crystal clear water. Some of these, because of their limited accessibility, are peacefully low in visitors, others though, offer tourists and summer guests the opportunity to swim just a few minutes from a town, off beaches equipped with all that is necessary for safety and comfort.
The beaches of Pollensa are one of the main attractions for visitors in spring and summer. The best known are those at Formentor (the most visited in the area, some 30 minutes by car from Pollensa town, with beach bar service, showers and sunshades), those at Puerto Pollensa and Llenaire (with a long promenade, windsurf hire, lifeguards and many bars and restaurants nearby), and those at Cala Sant Vicenç (Cala Barques, Cala Clara, Cala Molins and Cala Carbo, with fine, white sand, bars and restaurants close by, windsurf and kayak hire and free parking).
A small and little visited beach, because of slightly difficult accessibility, which has retained its original virgin character even though it lies close to the important tourist resort of Puerto Pollensa, is Cala Boquer, some 50 metres wide and with a shoreline of round rocks and stones.
Other beaches worth visiting if you are in Pollensa, especially if you are looking for peace and tranquillity, are Cala Castell, Cala en Feliu, Cala en Gossalba, Cala Estremer, Cala Figuera and Cala Murta.