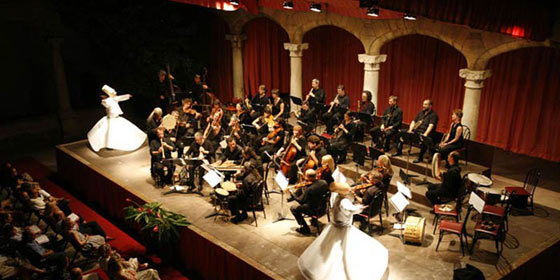 The municipality of Pollensa is one of the principal cultural centres of Mallorca. Oustanding, among other things, for its important agenda of artistic events, including, at differing times of the year, fairs, fiestas and festivals and traditional celebrations, excellent exhibitions, and concerts and recitals by internationally renowned musicians.
During the summer months the Music Festival of Pollensa is celebrated, featuring performances by artists well-known in the music world, be it classical, jazz, gospel, rock or pop. The concerts take place in the Santo Domingo Cloisters, a marvellous 16th century building, and have taken place annually since 1962, it is the only festival in Mallorca to be included in the European Association of Festivals.
As well as this Festival, Pollensa is known for its patron saint fiestas which are celebrated at the end of July until August 2nd, the day of Mare de Deu des Angels, the town's patron saint. After days of other activities the fiesta ends with a spectacular mock battle between Moors and Christians.  This re-enactment commemorates a real battle of May 30th, 1550 when the townspeople of Pollensa led by local hero Joan Mas fought off an army of pirates led by Dragut.
Other dates to note in the Pollensa cultural agenda are those of the San Antoni and San Sebastian fiestas in late January, the Easter celebrations with processions on Holy Thursday and Good Friday, the Pollensa Fair (craft fair with displays of local trades, products etc in November), and a Wine Fair which takes place around April/May time.
In Puerto Pollensa there are fiestas at the end of June (St Peter) and in July (Virgen del Carmen), and Cala San Vicente has its main celebrations in August.
Pollensa has been the cradle and desired destination of poets and artists since the beginning of the 20th century so it is not strange to find several museums and art galleries in the town. Artists such as Anglada Camarassa and Tito Cittadini made their homes here and are included in what is known as the "Pollensa School" of art, along with local artist Dionis Bennassar and other painters.
The town museum is situated in the Santo Domingo Cloisters where you can see displays of contemporary art, the permanent collection of Atilio Boveri, archaeological pieces, a Buddhist bequest and gothic paintings.
The Dionis Bennassar House/Museum houses a permanent collection by this outstanding artist, as well as hosting concerts and various exhibitions, and in the Marti Vicenc House/Museum you will find, as well as a permanent exhibition of the works of this painter and sculptor, displays of paintings, material, sculpture etc.